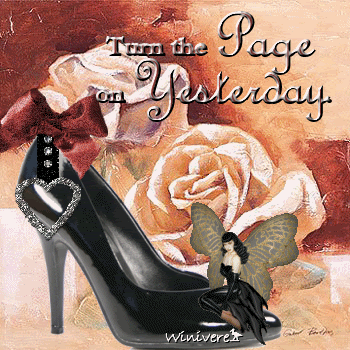 Happy

Moon

's-day! LOL @ I know how most people hate Mondays, but I

love

them!
@->----
This is a tag that I made this summer. It was my first tag with animation. It is a bit off, so don't look too closely! LOL... LOL @ the pun on Bettie Page... and YES! I have some Bettie Page pumps just like those! I love shoes. LOL @ is there a girl out there who doesn't love shoes?! I just wish I could keep wearing my high heels. After that freak fall where both my ankles got caught underneath the concrete stairs, my ankles continue to hurt so bad, and wearing anything but flats is torture. I have been praying for healing of my body, but mostly for my legs and feet, because most jobs will not allow you to wear flats. Last week, I had to wear heels and I suffered for it for two days afterwards, but I thank God that my feet didn't have to be cut off!!!!! Oh, how I continue to fight to be able to stand on my own two feet... literally!!!!! LOL
@->----
So, people keep asking me how I am doing. They snagged the tag on a previous entry, but didn't read the entry... It happens.... Will you take the time to find the entry or not?!#... Or will I have to fill you in?! Hummm... That is the question...
@->----
This will probably be a busy week for me, so I have no clue if I will be able to post much or not... I may have to be MIA this week (Missing In Action) and/or forget about having to cut and paste the letter "d." LOL @ for those who don't know, I am missing the letter "d" from my computer. It is such a pain to cut & paste....
XX
@->----
P.S... The moon is almost full! Don'tcha just love it?! It's calling my name to go out for a moonlit walk this evening... It's almost time for that Moon diet...
P.S.S... This weekend, I was able to add the gadget that allows you to see the updates of the blogs that I am following!!!!!!! Yay @ I finally got it! I set it up so that only ten of the latest entries show on the sidebar. I am so excited about this, because maybe now I will be able to keep up with people's journals. I am loving Blogger! I have dial-up, though, so I am still having trouble seeing some journals because they put too much animation in one entry. I pray that someday I may be able to see your stuff, Sugar! LOL...