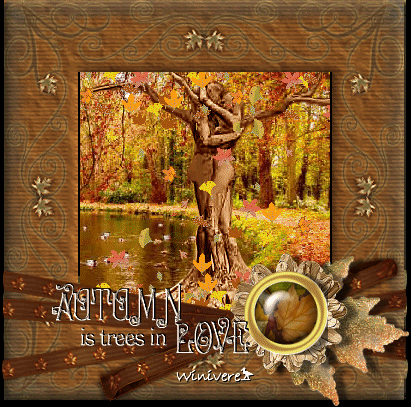 October gave a party;
The leaves by hundreds came~
The Chestnuts, Oaks, and Maples,
And leaves of every name.
The Sunshine spread a carpet,
And everything was grand,
Miss Weather led the dancing,
Professor Wind the band.
~George Cooper, "October's Party"
@->---
This tag is one of my favorites. If you look closely, the tree is a man and a woman loving each other.
@->---
I wish Autumn would visit all over the world. The pretty changing colors of the leaves make it look as if every leaf is a flower. Unfortunately, the Autumn I know only exists in picture books and now in my tags. (smile)
@->---
When I was a little girl, I was immediately drawn to the illustrations of Eloise Wilkin in the Little Golden Books. For me, one of those books was worth more than a toy. In my little world, there was no Autumn, but her illustrations opened my eyes to a whole new world that I thought was no more than imagination. Imagine my surprise the first time I came across a sandpiper or a tree full of changing colored leaves! The pictures she drew were not imagination at all! They were real! I love nature. It is one of God's greatest gifts.
@->--- XX