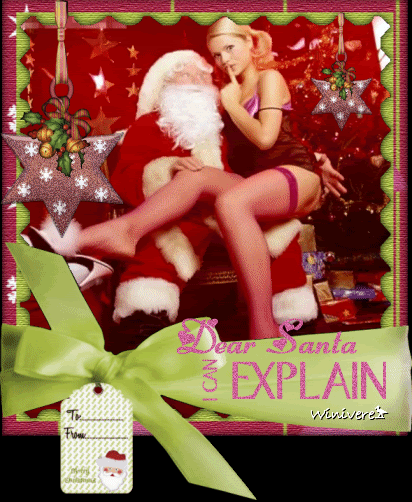 I haven't found a Christmas scrap kit that I like, so I have minimal things to work with to make Christmas tags. I hope people like what I have made so far...
People always say that if you are naughty, Santa won't bring you presents. I think that is a sorry thing to say to children, because I was always a good girl, but I only got one Christmas present my entire childhood. When buying Christmas gifts, I always think of the children first. I think children should get at least one present on Christmas day.
I don't know what life will be like at the shelter this Christmas season. All I know is that the children that are not reunited with their families will be sad to spend Christmas at the shelter. I hope that we will be able to do something to keep their spirits up... Instead of the Secret Santa idea for the staff, I think we should have donated CD players or radios for the kids at the shelter... I don't know what activities they are planning, but it would be nice to have them do a play or something...
I think I have found a new church home... Well, for as long as I continue to live in this area... I have been going to a nearby Shrine for many years, but I never knew that they give Mass in Latin at the church! I don't know if it is a recent change or if they have always had Mass in Latin, but it has brought back memories of my childhood of the way Mass used to be...
First of all, it is a humble church, which I love, because that means that my money will be helpful instead of being spent on things that the church really doesn't need... The priest faces the altar instead of the people. At communion, people kneel at the pews at the front of the church instead of standing up to receive communion, and they receive communion on their tongue instead of in their hand. Even the music is in Latin! It feels as if the voices are voices of angels singing... The women cover their heads with beautiful lace mantillas, just like in the days of old. I love mantillas. I wish I still had my long mantilla, but I have lots of hats and a collection of pretty vintage gloves that I can wear. I just wish I had prettier clothes to wear... but I need to lose some weight before I consider making some pretties... I am so adorable but nobody knows. LOL...
This morning, I made some homemade corn tortillas to eat with breakfast. All last week, nothing seemed to satisfy my pallete, but this morning's breakfast was yummy. I think I will make some homemade chili today...
My scale doesn't work, because it needs batteries and I can't find the right kind... I am not sure if I have lost some weight this week, but I feel lighter so if I looked at a scale and my weight has not gone down, it would not be helpful, so NOT having a scale that works has been helpful. LOL... I am not eating diet food. I am just trying to eat less and I am taking vitamins. I wake up so early that when I get home, I am exhausted, so I haven't gone walking, and I have been going to sleep earlier than usual... But I have been able to stay awake all day at work, and so far, I have been able to survive wearing my two-inch heels. Yay!
There is still a lot to learn at work, but so far, I am happy to see progress in my cases, and I have been able to keep up with the paperwork. The phone people were in the office last week and they installed the plug where my computer will go, so that is hopeful. I hope I will have a computer and a phone at work soon. My desk will be by the window so I am happy that my boss said that is where they will put me!
Payday is nine days away. LOL @ I continue to count the days... It is hard for me to understand why my coworkers live paycheck to paycheck when they have a two paycheck household, but then, they go out to eat everyday... and it sounds as if they are wasteful with their money.
XX