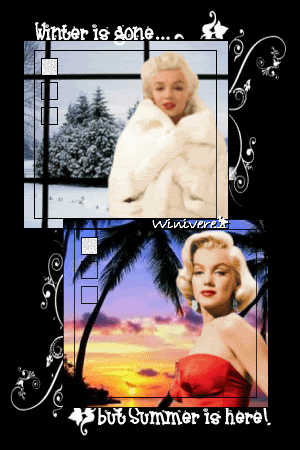 I think it's time for a little Marilyn. LOL @ if it were up to me, I'd probably make all my tags Marilyn... This a blinkie that I made last summer. It brings back memories of all those days that I would spend time drawing and creating fashions... Mother would freak to see my designs on paper, only to see me wearing the same design a day or two later... I so love to be creative~
On a happy note, the best part of this week is that Luciano Alfredo was released from the hospital and was able to go home with his Mommy. His nourishment will require special treatment, but hopefully, he will grow to be big and strong...
This week has not had enough hours in it... I usually stay at least an hour after work and I am still behind! Today is Friday. I usually leave at 5:00 on Fridays but today, I stayed until 6:30, trying to finish up on a couple of cases that I have been trying to complete since last week!
On Wednesday, Ms. Tiara said that the big bosses were yelling at The Eye behind closed doors. They were mad because he is always making the receptionist do things for him and he is not her boss. I don't know what else they got after him about, except that they moved him into the office where they had my friend, the supervisor that he and the clique got fired. He has been doing a lot of trainings. I think Monday may be the last day we see him next week before he goes on vacation. I don't know when he is going to stop being our boss, but I think it is going to be soon. That means Spelling Bee will be taking over. I don't know if she will get his job, but she has seniority over Betty Crocker and myself because she has been there the longest. She can be just as mean and hateful. I hope they will not hire her for the job. Really, I don't know if they can, without credentials...
Next week, I am going to play the guinea pig. I will be going to court with the kids all week. Grrr @ I don't know how I am going to do my work. I wish a different person could go on certain days but to be gone all week? I don't know how that is going to work, because it is going to set me further behind at getting the families reunified, which is the main purpose of my work.