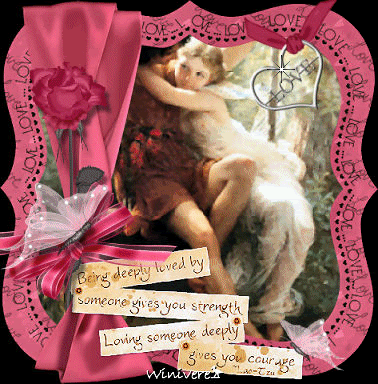 Le day of amore is right around the corner... Once again, I have let LIFE get in my way... Usually that happens when I am IN a job. Right now, I have NO job, but looking for a job is my NEW job... so once again, I am on the edge of allowing or not allowing LIFE to pass me by... Did I catch it in the nick of time?? Well, it is NOT V-day yet, but once again, I have failed to put TIME into looking for a boyfriend, so it is pretty much the same as almost missing it...
I know some women settle for men just because they are good for them... someone who can be a good friend, someone who can be faithful, someone who cares for them... I have been in relationships with men who were not good for me... but it is hard for me to imagine being with someone if there is no PASSION in the relationship... Am I more willing to be in a relationship with a man who is not good for me than to be in a relationship where there is no PASSION?... Good question...
Right now, I am in a relationship with a man who is good for me, but the relationship has not gone anywhere in years... He is a good friend, but I cannot say that we are a couple, because I have never been attracted to him that way... He has a lot of good qualities... more than are on my list of "must have" qualities, but what cuts me off the most is his mouth. He seems too comfortable in our relationship that he always says things that he shouldn't... total turn-off! Is it possible to create PASSION where there is no CHEMISTRY?!... Yawn...
I have been without a boyfriend since my divorce in 1997... and I waited 13 years to find that one! OMG @ this year will hit another 13 years mark... I better keep my eyes open...