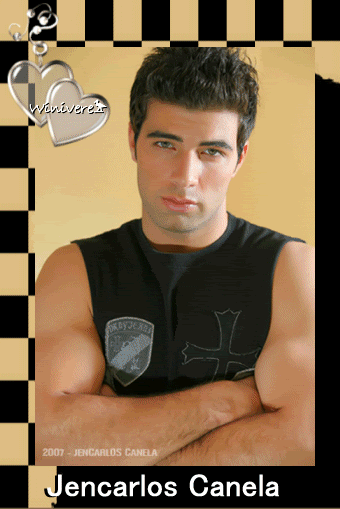 This is the first dark-haired man to walk through my Journal... Canela is the Spanish word for Cinnamon. Did I mention that I love cinnamon? I love everything cinnamon, but this is a new cinnamon to love. (smile)
This is Jencarlos Canela, an actor and a singer. He is one of People Magazine's most beautiful people and he will be coming to our area soon to promote his new CD. Most of his pictures show him flaunting a five o'clock shadow with his hair down, but I am most attracted to him with a goatee and his hair slicked back in a ponytail. Unfortunately, I was not able to find any pictures of him like that...
The job that I interviewed for this week was supposed to start on Thursday. I wasn't called, so I guess I blew the interview... When that happens, all these things go through my head about where I went wrong... Although, I am somewhat relieved that I did not get the job because I really do not want to work 24/7 anymore. If I wanted to do that, I would apply for a job that pays more money...
I also think about my previous job and how my ex-boss wrote down things on paper to make me look as if I was behind when all of my documentation was up-to-date... I could have fought for my job and won, but I was too burned-out at being bullied and at having to drive to a job that is an hour away for the past 13 months...
The kind of work that I do is and will always be stressful. Going into another job only means I am putting myself back into the same pot of hot water... But God knows that I was unjustly let go, and He knows that the job and those She-Devils were draining the life out of me, and so, I believe that it was God that pulled me out of that bad situation and that it is God who will place me in a better place...
This week, I discovered that I am eligible for unemployment. It will not be much money, but any little bit helps. A friend of mine is a college professor, but he has two part-time jobs that do not equal 40 hours, so he is also looking for work. It is sad to know that in these times, a college education is not enough...
For some unknown reason, I have not been able to clean the living room, so yesterday, I rearranged the furniture. It's funny how something as simple as rearranging furniture will give you a boost.
Excuse me while I prepare myself some Cinnamon toast... =.)