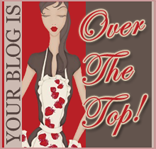 I am a little late with this, but Sandra nominated me for an Over the Top award.
So, the rules of this award are as follows:
~Answer the questions below using only one word
Like Sandra, I'll use as many words as it takes...........
~Thank the blogger who gave it to you:
Gracias, Senorita Sandra.
~Pass it on to 4 of your favorite bloggers
so on with the questions:
1. Where is your cell phone?
In an animal print mini-box
2.Your hair?
Curly, Fluffy, Sexy
3. Your mother?
Widow
4. Your father?
MSgt. U.S. Army. Korean War Veteran. Died of Leukemia when I was 3.
5. Your favorite food?
Seafood, Avocado, Chinese
6. Your dream last night?
Too exhausted to dream lately
7. Your favorite drink?
Margarita, Ice Mocha with whip cream, chocolate chips, cinnamon, nutmeg
8. Your dream/goal?
To get BEYOND survival
9. What room are you in?
Living Room
10. Your hobby?
Almost Non-Existent since I started this job: Art, Cooking, Designing, Making Clothes, PSP
11. Your fear?
FALLing in Love
12. Where do you want to be in 6 years?
Retired by the sea
13. Where were you last night?
Working GRRR
14. Something you aren't?
Bitchy
15. Muffins?
are boring
16. Wish list item?
Happy-ness =.)
17. Where did you grow up?
Texas
18. Last thing you did?
Made a Bacon, Lettuce, & Tomato sandwich. YUMMM and watched a movie
19. What are you wearing?
Smile
20. Your TV?
Too much Spanish GRRRR
21. Your pets?
Tidbit died this year. She was a cockatiel. I miss her.
22. Your friends?
Belle & Daniel are my best friends. They live in the same town but they don't know each other. LOL =.)
23. Your life?
Too much work DRAMA ~ STRESSful to work with She-Devils
24. Your mood?
Happy NOT to be at work today
25. Missing someone?
Not really... I enjoy my time alone, just kicking back. Ahhhhhh
26. Vehicle?
THE BLACK KNIGHT
27. Something you're not wearing?
Clothes =.)
28. Your favorite store?
Paper Bear in San Marcos, TX
29. Your favorite color?
Deep Royal Purple... although lately, I am drawn to browns, teal, olive green
30. When was the last time you laughed?
When I was talking to Angel on the phone
31. Last time you cried?
Don't remember… They say Big Girls Don't Cry… Am I finally a Big Girl? LOL… or maybe I am just overdue to cry... Lord knows I have plenty of reason to cry, but I haven't!
32. Your best friend?
My BFF Belle. We have been friends for almost 20 years.
33. One place that I go over and over?
To buy gasoline for my carro. GRRR
34. One person who emails me regularly?
Belle
35. Favorite place to eat?
The Boiling Pot, Crab's Inn, or Red Lobster
My nominations are:
1.)
http://kath-mysimplerhymes2.blogspot.com/
2.)
http://jimsulliv3.blogspot.com
3.)
http://coelhathoughts.blogspot.com/
4.)
http://wouldyoulikesomeheartwiththat.blogspot.com/
I tried to put this award on my sidebar but it won't add. GRRR... I'll try later.........